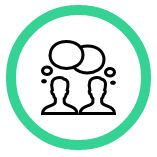 We take our time for consulting, because it is the foundation for your future satisfaction. We focus on your needs and possibilities. You tell us your ideas and we will work with you to, according to the law of the optimum principle to tease out the best possible for you.
Custom software solutions
Standardized software is well and good. But what if the standard software available on the market do not fit your needs? No Problem! We develop a customized solution that sits on your application profile like a glove.