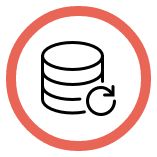 In many fields, databases form a company's foundation. A poorly designed database may quickly become a bottleneck preventing your web application from delivering the performance your business requires.
Due to the experience gathered in this particular field, database development is one of our core competencies. We offer comprehensive database development services. After thoroughly analyzing the special requirements of your business we will develop and deliver the right solution – be it creating an internally networked multiple user system developed in Microsoft Access or a complete web based solution combining mySQL/PHP or MS SQL Server/.NET technologies.
Our experience, your benefit!!!