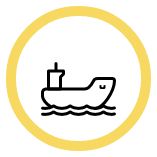 Handling the complexities of the maritime sector is not an easy task. In these growing markets there are more and more competitors acting on international levels. So, although the markets are expanding, there is eventually only room for the best of the best and no company should ever rest on one's laurels.
In such times it is good to have a partner providing state-of-the-art-expertise. Masters of Arts will be this partner for you. Our HansaCrew product line offers a wide range of web-based, fully integrated solutions for crew planning, training and manning as for other aspects of the maritime business. Being developed on the basis of the industry standard Microsoft technology, HANSACREW supports both server and client. This software creates beelines by interfacing to all relevant data providers, e.g. manning or travel agencies and supports all the relevant stakeholders, onshore in the offices of shipping companies and manning agencies as well as offshore in the masters office aboard.
HANSACREW is your Software with built-in business intelligence. Ask for our references and for our implementation and training services. For more information please visit.