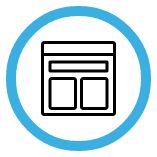 Internet has become a must in today's businesses – the ultimate way to communicate with your customers. In contrast to a software being installed on your workstation, we develop and transform your software into a web application and, thus, enable you to work all over the world regardless of where you are.
Our group of developers enjoys the complex world of web applications and its challenges. We compile web applications using C#, XML, XSLT, AJAX, and Microsoft Office SharePoint Server (MOSS).
In lots of cases the professional customization of pre-developed platforms is a sufficient solution. However, sometimes this may be not suitable or even inapplicable. At Masters of Arts, we develop and deliver cost-effective and reliable custom web applications matching your unique goals, requirements, and processes.
If you are looking for long-term reliable partners realizing new and innovative ideas in order to add value for you and your customers and to differentiate your business in a tough competitive environment, just turn to Masters of Arts!