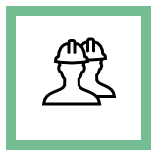 Handling the complexities of crew management is not an easy task. Crews are often involved in various types of jobs as well as both short and long-term work.
HANSACREW provides prominent overviews for planning and manning. Based on crew member availability and quality, the software strives to create the best situation for all involved. HANSACREW provides clarity by displaying and monitoring all crewing processes. Documents, individual responsibilities and daily updated to do lists – it's just a click away.
On the other hand, HANSACREW's unique "alert" function reminds users of deadlines as well as recurring or pressing tasks such as mailings and contracts. No certificate will expire unnoticed.
HANSACREW is a web-based, fully integrated solution for scheduling and planning crews. Being developed on the basis of the industry standard Microsoft technology, HANSACREW supports both server and client. The crewing software creates beelines by interfacing to all relevant data providers, e.g. manning or travel agencies.
HANSACREW is your Crew Management Software with built-in business intelligence. Ask for our references and for our implementation and training services. For more information please visit our site www.hansacrew.net.