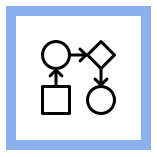 Process management is the application of knowledge, skills, tools, techniques, and systems to define, visualize, measure, control, report, and improve processes aiming to meet customer requirements while being profitable. It is all about staying ahead in a dynamic business environment and making better decisions faster by providing the right people with the right information at the right time.
Any improvement of your company's business processes may result in a major increase in overall efficiency and, therefore, profitability.
Masters of Arts will assist you in addressing your core business objectives more effectively with the help of the business process solution.